These workshops are intended for composers who wish to present a new instrumental work and who wish to benefit, during the necessary rehearsals, from the experience and advice of the members of the Acanthes teaching staff.
These workshops, placed under the artistic direction of Michael Jarrell, Yan Maresz and Marco Stroppa, will be preceded by a 'round table' analysis, and will provide composers with the opportunity to make final adjustments to their pieces as they hear them being played
Applications by composer candidates to composition workshops (detailed CV, scores, recordings as appropriate) shall be examined by a selection committee whose decision is final.
---
1) Orchestral Workshops - Orchestre National de Lorraine
a) Formation A - conductor Jacques Mercier
Instrumental line-up: 1 flute + 1 flute/piccolo, 1 oboe + 1 oboe/cor anglais, 2 clarinets, 1 bassoon + 1 bassoon/counter bassoon, 3 horns, 2 trumpets, 1 trombone + 1 bass trombone, 1 timbale, 1 percussionist*, 1 harp, 19 violins, 6 violas, 5 cellos, 3 double basses.

b) Formation B - conductor Sylvio Gualda
Instrumental line-up: 1 flute, 1 oboe, 1 clarinet/soprano clarinet, 1 bassoon, 1 horn, 1 trumpet, 1 trombone, 1 percussionist*, 4 violins, 2 violas, 2 cellos, 2 double basses.

*Available percussion instruments: 1 vibraphone (F3-F6), 1 marimba (4 and a half octaves F2-C7), 1 glockenspiel (F5-E8), 1 set of crotales (2 octaves C to C), 1 set of tubular bells (F4-F6), 4 toms, 2 bongos, 2 tumbas, 1 tam-tam, 1 symphonic bass drum, 3 suspended cymbals, 5 temple blocks, 2 wood blocks.
Student composers may choose all or only some of the available instruments (no fewer than thirty-five musicians for Formation A, twelve for Formation B). Concertante works will not be accepted.
Duration of work presented: six to eight minutes.
---
2) Workshop string quartet with or without electronics – Quatuor Arditti
Instrumental line-up: 2 violins, 1 viola, 1 cello
Duration of work presented: from six to eight minutes
In the event of use of music computing, only one instrument will be produced in real time and the loudspeaker configuration will be limited to 8 speakers, of which 2 will be mobile and 6 placed around the public.
Inscription deadline
Metz Composition workshops
22 January 2007
please read Application
---
Note to composers selected for the composition workshop
The composers selected must submit the following before 11 June 2007 (postmark being proof of posting):
1 – their score (3 copies of conductor's score plus separate parts, all legible and of good quality)
2 – a short programme note in French and in English
Submissions not respecting the times indicated will not be taken into consideration.
Some of the worked pieces will be programmed for the trainees concerts of the 19 and 20 July. All works will benefit from thorough rehearsals and the works programmed in the concerts in Metz will receive a CD recording of their work.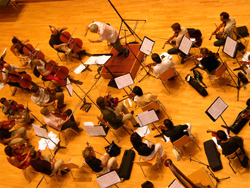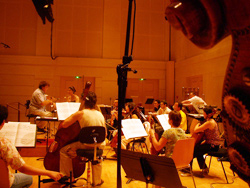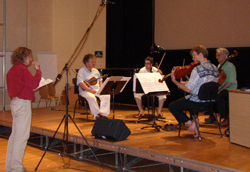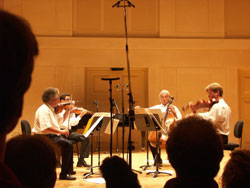 Atelier Quatuor Arditti - Acanthes 2005