Conferences
19h Conference-Workshop : Sei Soli : Jean-Sébastien Bach by Amandine Beyer
20h Conference-Concert : "Perform Anthèmes 2 by Pierre Boulez" by Andrew Gerzso and Hae-Sun Kang

Pierre Boulez, Anthèmes 2,
Jean-Sébastien Bach, Partita No. 1 in B flat; Sonata in A minor,
Hae-Sun Kang, Amandine Beyer, violons
IRCAM Computer Music Design/Andrew Gerzso


The Beauty of Movement, conference by Thierry De Mey
Movement as an Interface: Music, Dance, Films, Installations

Encounter with Thierry De Mey, Luca Francesconi et Philippe Manoury.

On Tensio, conference by Philippe Manoury

On Quartett, conference by Luca Francesconi
and screening of the film "Images of a Work: Quartett by Luca Francesconi" produced by Benoît Martin and Nicolas Donin.

Round Table "Sound in Theater" with:
Olivier Cadiot, Ludovic Lagarde, Émilie Rousset, Matthieu Roy, Cyril Teste and Guillaume Vincent.

Encounter with Pierre-Laurent Aimard

Contemporary Writing for an A Cappella Choir conference by Geoffroy Jourdain

Presentation of In Vivo Dance by Thomas Hauert and Thierry De Mey, prior to a concert given by the students.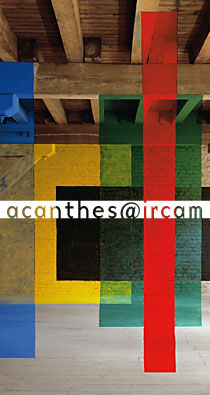 © Georges Rousse, Metz, 1994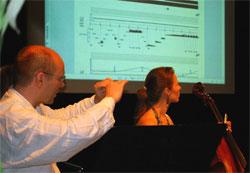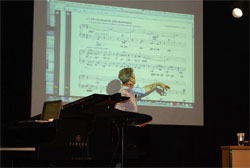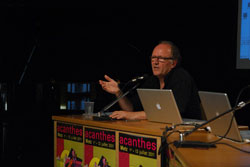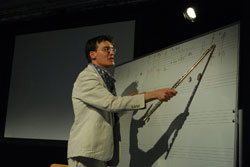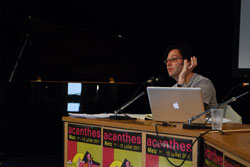 Conférences Acanthes 2010-2011