These workshops are designed for participating composers who wish to submit a new instrumental work and, throughout the requisite rehearsals, benefit from the experience and advice of members of the Acanthes teaching team. These workshops, placed under the artistic direction of Beat Furrer, Hanspeter Kyburz and Tristan Murail, will be preceded by a «round-table analysis» which will provide the participating composers with the opportunity to make final adjustments to their pieces as they are being played.
Composer candidate's applications for composition workshops (detailed CV, scores, recordings as appropriate) shall be examined by a selection committee whose decision is final.
The Acanthes management, together with the heads of each workshop composition, reserves the right to reject a score where its realisation proves impractical.
---
1) Orchestre National de Lorraine Workshops
a) Formation A - conductor Jacques Mercier
Instrumental line-up: 1 flute + 1 flute/piccolo, 1 oboe + 1 oboe/French horn, 2 clarinets, 1 bassoon + 1 bassoon/contrabassoon, 3 horns, 2 trumpets, 1 trombone + 1 bass trombone, 1 timpani, 1 percussion* , 20 violins, 7 violas, 6 cellos, 4 double basses.

b) Formation B - conductor Jean Deroyer
Instrumental line-up: 1 flute, 1 oboe, 1 clarinet/soprano clarinet, 1 bassoon, 1 horn, 1 trumpet, 1 trombone, 1 percussion*, 1 harp, 1 violin, 1 viola, 1 cello, 1 double bass (5 strings).

*Available percussion instruments: 1 vibraphone (F3-F6), 1 marimba (4 and a half octaves lames Kelon F2-C7), 1 glockenspiel (F5-E8), 1 set of crotales (2 octaves C to C), 1 set of tubular bells (F4-F6), 4 toms, 2 bongos, 2 tumbas, 1 tam-tam, 1 symphonic bass drum, 3 suspended cymbals, 5 temple blocks, 2 wood blocks.
Participating students can select all or some of the available instruments (minimum of thirty five musicians for formation A and eight musicians for formation B, to the exclusion of any concertant works).
Duration of the presented work: six to eight minutes
| | |
| --- | --- |
| ! | Registration deadline |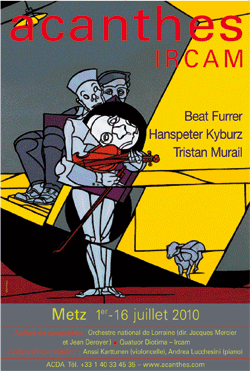 > Registration deadline <
Composition workshops
25 January 2010
Please check link to Registration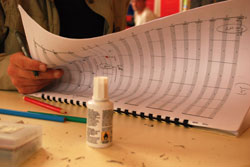 ONL, Atelier A - Acanthes 2009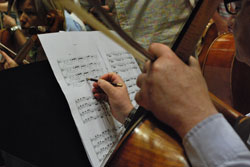 ONL, Atelier A - Acanthes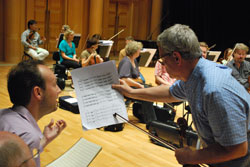 ONL, Atelier A - Acanthes 2009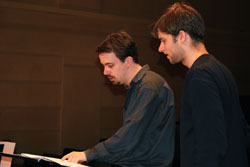 ONL, Atelier B - Acanthes 2009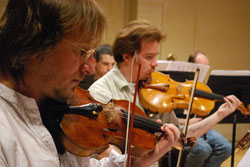 ONL, Atelier B - Acanthes 2009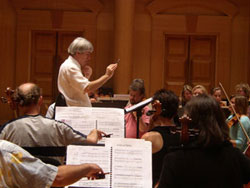 ONL, Atelier A - Acanthes 2009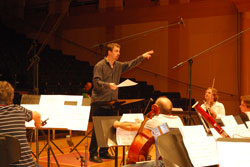 ONL, Atelier B - Acanthes 2009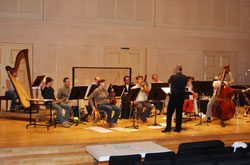 ONL, Atelier B - Acanthes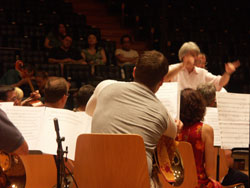 ONL - Acanthes

Note for composers selected for the composition workshops
Specification for scores to be submitted
The composers selected must submit the following:
1. By post before 14 May 2010 (postmark being proof of posting):
The written work:
– Conductor's bound copy - minimum A3 format, in triplicate, with characters large enough to be read from a distance, copies of good quality,
– Musicians' individual parts (bound as necessary), A4 or A3 (according to the writing and for a good readability), one copy per musician, edited with a sufficient pause at the bottom of each page in order to allow the performer to have time to turn the page.
2. by

(before 14 May 2010)
– The written work by .pdf file (Conductor's and musician's parts)(conducteur et parties séparées)

– Programme notes in English and French – maximum of ten lines (format .rtf if possible)

- A biography in English and French maximum of ten lines (.rtf file if possible)
The Acanthes Centre management reserves the right to refuse any dossier that does not include documentation of good quality and/or does not meet the criteria required in this specification.