These workshops are designed for participating composers who wish to submit a new instrumental work and, throughout the requisite rehearsals, benefit from the experience and advice of members of the Acanthes teaching team. These workshops, placed under the artistic direction of Hugues Dufourt, Ivan Fedele and Bruno Mantovani, will be preceded by a "round-table analysis" which will provide the participating composers with the opportunity to make final adjustments to their pieces as they are being played.
Composer candidate's applications for composition workshops (detailed CV, scores, recordings as appropriate) shall be examined by a selection committee whose decision is final.
The Acanthes management, together with the heads of each workshop composition, reserves the right to reject a score where its realisation proves impractical.
---
1) Orchestre National de Lorraine Workshops
a) Formation A - conductor Jacques Mercier
Instrumental line-up: 1 flute + 1 flute/piccolo, 1 oboe + 1 oboe/French horn, 2 clarinets, 1 bassoon + 1 bassoon/contrabassoon, 3 horns, 2 trumpets, 1 trombone + 1 bass trombone, 1 timpani, 1 percussion* , 20 violins, 7 violas, 6 cellos, 4 double basses.

b) Formation B - conductor Jean Deroyer
Instrumental line-up: 1 flute, 1 oboe, 1 clarinet/soprano clarinet, 1 bassoon, 1 horn, 1 trumpet, 1 trombone, 1 percussion*, 1 harp, 1 violin, 1 viola, 1 cello, 1 double bass (5 strings).

*Available percussion instruments: 1 vibraphone (F3-F6), 1 marimba (4 and a half octaves lames Kelon F2-C7), 1 glockenspiel (F5-E8), 1 set of crotales (2 octaves C to C), 1 set of tubular bells (F4-F6), 4 toms, 2 bongos, 2 tumbas, 1 tam-tam, 1 symphonic bass drum, 3 suspended cymbals, 5 temple blocks, 2 wood blocks.
Participating students can select all or some of the available instruments (minimum of thirty five musicians for formation A and eight musicians for formation B, to the exclusion of any concertant works).
Duration of the presented work: six to eight minutes
| | |
| --- | --- |
| ! | Registration deadline |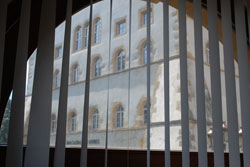 Inscription deadline
Composition workshops
26 january 2009
Please check link to Application
---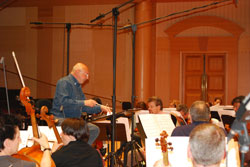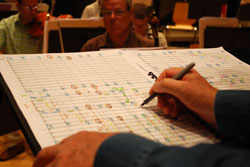 ONL, Atelier A - Acanthes 2008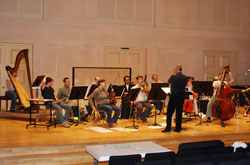 ONL, Atelier B - Acanthes 2008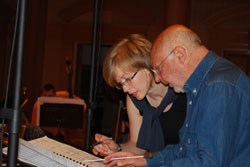 Diego Masson and Anita Mieze - Acanthes 2008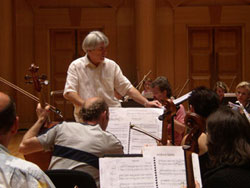 Jacques Mercier - ONL - Acanthes 2007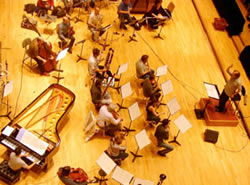 Ensemble Intercontemporain - Acanthes 2006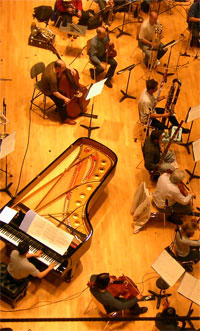 Ensemble Intercontemporain - Acanthes 2004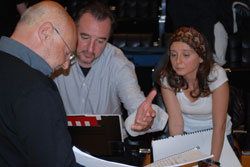 Diego Masson, Fabio Nieder et Cinzia Nistico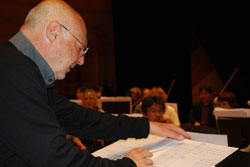 Diego Masson - répétition Acanthes 2008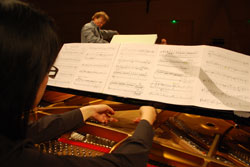 Atelier 2P2P - rehearsal Acanthes 2008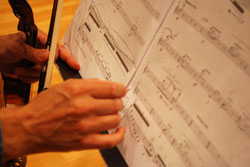 Acanthes 2008

2) Neue Vocalsolisten and Sylvio Gualda workshops:
Sarah Sun, soprano
Martin Nagy, tenor
Guillermo Anzorena, baritone
Andreas Fisher, bass
and Sylvio Gualda
Participating students may choose all or part of the vocal line-up and one percussion set (with percussion as an option).The percussion part cannot be a solo percussion choice.
The composers can use a text which they wrote themselves, either a classical or a contemporary text; in this last case, they should make sure they are entitled to use the selected text.
Option without percussion: three voices as a minimum.
Duration of the presented work: four to seven minutes.
The possible ensemble choices are:

– Four voices, one percussion set
– Three voices, one percussion set
– Two voices, one percussion set
– One voice, one percussion set
– Four voices
– Three voices
Available percussion instruments:
1 Timpani (n°4)
1 Snare drum
4 Toms toms (45/40/36/33)
1 pair of Bongos
1 Tumba
1 Symphonic bass Drum (90 cm)
1 Tam Tam (96 cm),
3 Thai gongs (low/medium/high)
3 Cymbals (low to high)
1 China cymbal
3 brass Japanese rins
5 temple blocks
4 woodblocks
1 Wood chime
1 Metal chime